HARMONY escalators and passenger conveyors combine the attributes of comfort, safety, functionality and aesthetics. We offer solutions for INDOOR and OUTDOOR use with the required IP protection classes. The modern, modular control system ensures trouble-free operation and helps to save energy. The low-noise, frequency-controlled drive has an efficiency of over 88% and enables gentle acceleration and deceleration curves. By using LEDs instead of conventional lighting, energy consumption is reduced and the lifespan of the lighting is increased by up to ten times.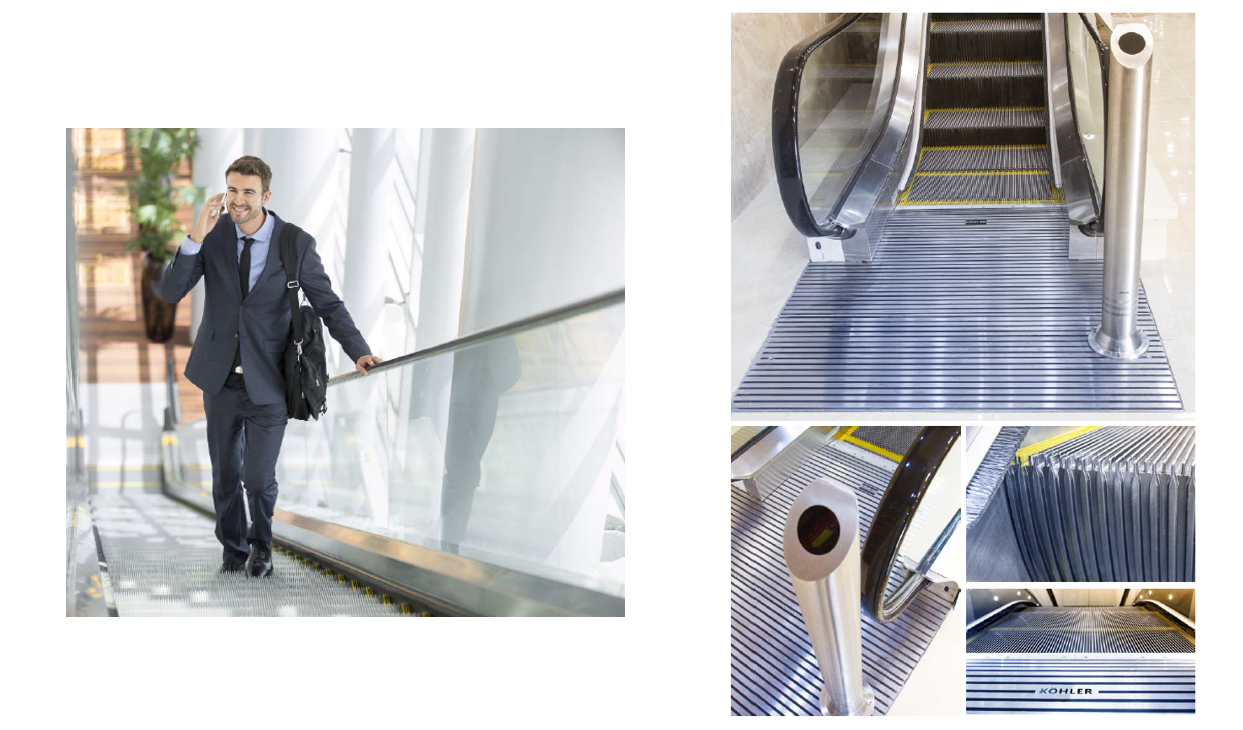 Hospitals, shopping centers, metro stations, office buildings or airports – we offer the right escalators and passenger conveyor belts for your usage requirements for normal or high numbers of people with up to 24 hours of use per day. With a wide variety of designs, the escalator blends into any environment. Various stainless steel surfaces with modifiable lighting colors (RGB) can be selected. Clear visual guidance of passengers with stylish direction indicators, lighting of steps and ridges, as well as a number of safety devices and sensor systems ensure safe operation.
The HARMONY escalators are certified according to the safety standard EN 115-1:2008 + A1:2010.
HARMONY escalators and passenger conveyors
| | | | |
| --- | --- | --- | --- |
| Funding height: | up to 27m (escalator)  |   |   |
|   | up to 12m (passenger conveyor belt) |   |   |
| Tilt: | 30° / 35° (escalator) |   |   |
|                                   | 0° / 10° / 11° / 12° (passenger conveyor belt) |   |   |
| Step width: | 600mm, 800mm, 1000mm (escalator) |   |   |
|   | 800mm, 1000mm, 1200mm (passenger conveyor belt) |   |   |
| Speed: | 0.5m/s, 0.65m/s (0.75m/s) |   |   |
| Operating time: | 12h to 24h per day |   |   |
| Mission:     | indoors/outdoors  |   |   |